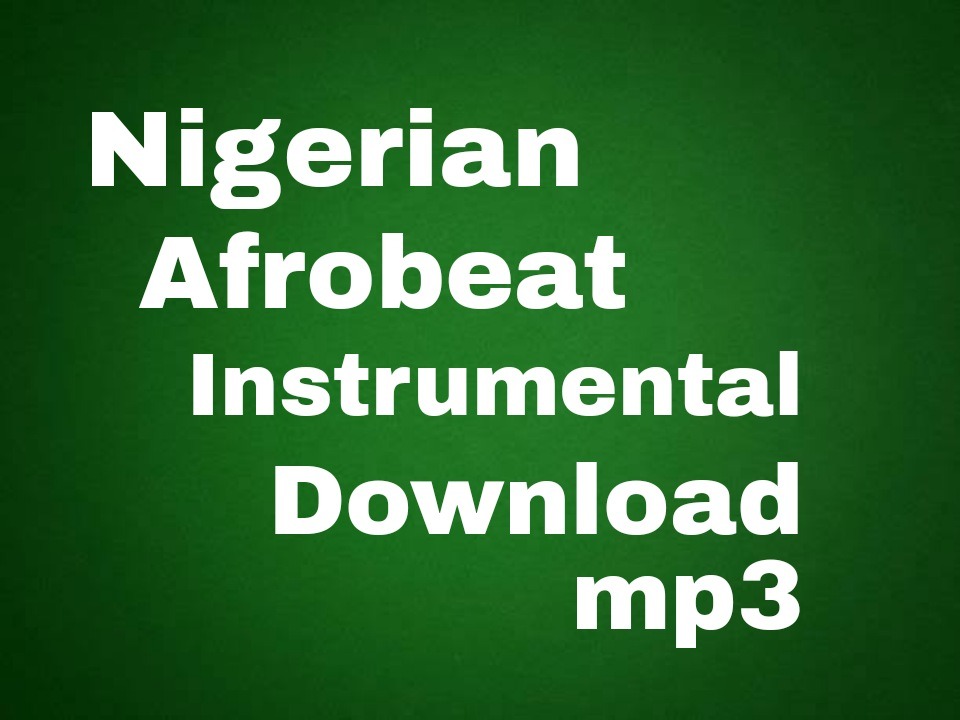 Nigerian afrobeat instrumental download mp3 cannot be fully explained with out explaining its origins. Nigeria is a west African country in the continental of Africa with rich cultural and traditional heritage, with a population of over 200 million and a significant percentage out of this population especially the youths are either upcoming, independent or unsigned music artists.
 Nigerian beats have been embraced all over the world as many hit songs have been made out of this type of afro instrumentals and this has given alot of the naija music artists local and international recognition.Hit songs like "if" by Davido, "Ojuelegba" by Wizkid, "Gbona" by Burna Boy, "Mad over you" by Runtown, "Pana" by Tekno, "Oleku" by Ice prince Zamani, "Duduke" by Simi, "Oliver twist" by Dbanj, "Dumebi" by Rema, "Bad energy" Wizkid featuring Skepte, "Closer" Wizkid featuring Drake, "Blow my mind" Davido featuring Chris Brown, "Ye" by Burna Boy, "On the low" by Burna boy, "Ginger" by Wizkid featuring Burna Boy, "Smile" Wizkid featuring H.E.R, "Blessed" Wizkid featuring Damian Marley and whole lot of other naija afrobeat hit songs. 
Nigerian afrobeat instrumental has grown in popularity over the years and it keeps growing as the more hit songs are been released.
Types Of Nigerian Afrobeat Instrumental Download mp3
Burna boy is a Nigerian music artist who has made a name for himself in the African and international music scene as he been dropping hot hit singles and albums since 2015 and won a grammy award recently in best global music album category.Burna boy type beats are type of naija beats instrumentals have some similarities to the beats used in a Burna boy song, this might be in terms of the chords, the drums and percussions and refills and the general lay out of the beat.
Title : Kilometre
Tempo : 96Bpm
Duration : 3:00 minutes
Producer : Kingcoven Beats
Title : Jonzing
Tempo : 94Bpm
Duration : 3:35 minutes
Producer : Kingcoven Beats
Title : Flashy
Tempo : 97Bpm
Duration : 2:48 minutes
Producer : Kingcoven Beats
Title : Bestie
Tempo : 97Bpm
Duration : 2:48 minutes
Producer : Kingcoven Beats
Title : Babe
Tempo : 95Bpm
Duration : 3:03 minutes
Producer : Kingcoven Beats
Title : Focus
Tempo : 86Bpm
Duration : 2:47 minutes
Producer : Kingcoven Beats
Related Tags
Burna Boy Afrobeat
Nigerian afrobeat instrumental download
burna boy level up instrumental
burna boy real life instrumental
download afro beat 2021
burna boy – ye instrumental
Rema ft burna boy mp3 download
Wizkid is one of the best afrobeat music artist of today who emerged and became prominent since 2010 after the release of his "holla at your boy" hit single and ever since then has made a name for himself locally and internationally and recently won a grammy award in the best music video category.As the name refers "wizkid type beats" are naija afrobeat instrumentals which sound similar to types of beats used by wizkid when making his music and this usually follows the same drum patterns, percussions, refills and different chord progressions but still in the same genre.
Title : Sauce
Tempo : 95Bpm
Duration : 2:57 minutes
Producer : Kingcoven Beats
Title : Loyalty
Tempo : 96Bpm
Duration : 2:30 minutes
Producer : Kingcoven Beats
Title : Gentle
Tempo : 97Bpm
Duration : 2:48 minutes
Producer : Kingcoven Beats
Title : Addiction
Tempo : 96Bpm
Duration : 3:30 minutes
Producer : Kingcoven Beats
Title : Body Talk
Tempo : 103Bpm
Duration : 3:30 minutes
Producer : Kingcoven Beats
Title : Girlfriend
Tempo : 101Bpm
Duration : 3:01 minutes
Producer : Kingcoven Beats
Related Tags
Afrobeat instrumental 2020 free download
Ghana afro beat instrumental download
Naija free beat instrumental 2020
Naija Beats free Downloads
Afro beat instrumental 2019 mp3 download
Naija Beats free downloads 2020
Naija Instrumental with hook mp3 download
Naija rap instrumental download
Nigerian afrobeat instrumental download
Nigerian afrobeat instrumental
For Further Reading